The year 2022 is momentous indeed as it marks the golden jubilee of Malaysia Tourism Promotion Board, also known as Tourism Malaysia.
The Malaysia Tourism Promotion Board or Tourism Malaysia is an agency under the Ministry of Tourism, Arts and Culture Malaysia. It focuses on the specific task of promoting tourism in Malaysia and overseas.
Since its inception as the Tourist Development Corporation (TDC) in 1972, Tourism Malaysia has grown by leaps and bounds. Now a leading government agency, it ranks as a major player in the international tourism scene with a global network of Overseas Offices and Marketing Representatives in key markets across Asia, America, Europe, Oceania and Africa.
Driven by its aspiration to make Malaysia a destination of excellence in this region, Tourism Malaysia continues to propel the industry to greater heights. In 2019, Malaysia registered 26.1 million tourist arrivals and RM86.14 billion tourist receipts, placing it among the top tourism destinations of the world. To date, Tourism Malaysia has successfully organised four Visit Malaysia Year campaigns, with some campaigns charting tremendous success that exceeded all expectations.
Tourism Malaysia's achievements have not gone unnoticed as the organisation has been the proud recipient of numerous global recognitions.
Tourism Malaysia will continue to work closely with other Government agencies and the private sector, including tourism trade partners, tourism stakeholders and other relevant bodies to secure Malaysia's position as a leading tourist destination.
Visit www.malaysia.travel for information on a wide range of fascinating tourist attractions in Malaysia.
Logo Rationale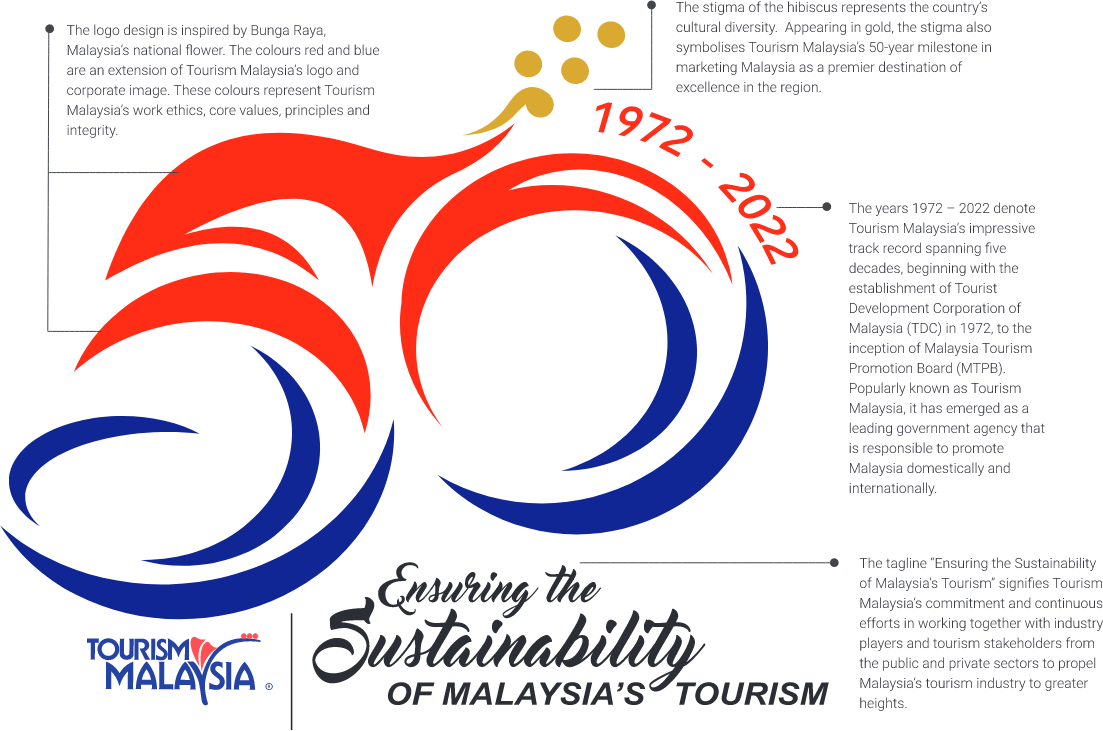 Commemorating our Golden Jubilee with Artistry and Creativity
To celebrate the milestone occasion of our golden jubilee, Tourism Malaysia is proud to present a Special Edition calendar that showcases a compilation of timeless artistic expressions.
A tribute to the country's homegrown artists, the calendar features semi-abstract paintings that were curated from the National Art Gallery. Hailed as national treasures, these works of art reflect the evolution of the Malaysian art scene, with some paintings tracing back to the late 1960s.
Just as the strokes of a painting come together to tell a story, Tourism Malaysia's unwavering efforts and commitment for the past 50 years have turned the country into the tourism success story it is today. Experience the creative energy, passion and dedication of these highly accomplished artists as you flip through the pages.
May this delightful compilation of art and music inspire you to plan many joyful Malaysian vacations in the year 2022.